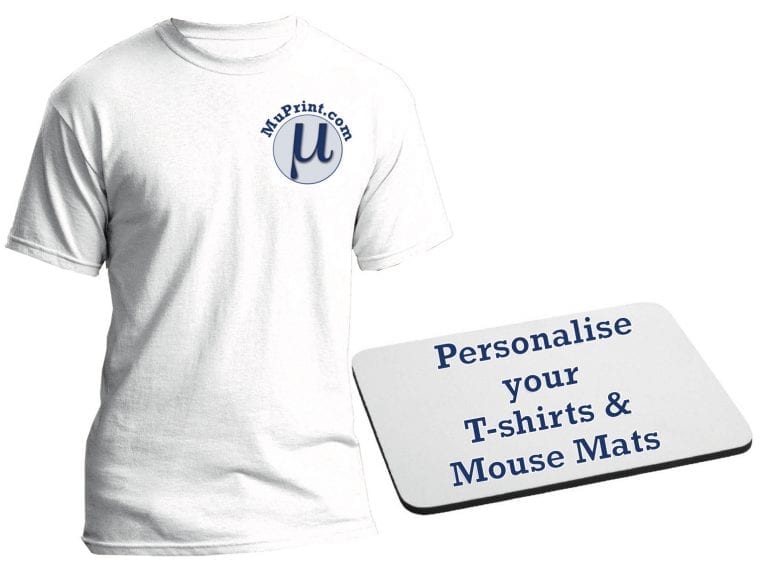 T-shirts
We can print full colour images onto white T-shirts and mouse mats. Your picture, whether it be a photograph, a computer generated image or even a drawing, can be transfered onto one of these items and they make excellent personalised presents. Unfortunately, we cannot print these while you wait so please allow 2-3 days.
We stock white T-shirts in adult sizes with either a standard fit (Small, Medium, Large, Extra Large and XX Large) or women's fit (Extra Small-chest 30″/76cm, Small-32″/81cm, Medium-34″/86cm, Large-37″/94cm, Extra Large-40″/102cm); plus children's sizes (3-4yrs, 5-6yrs, 7-8yrs, 9-11yrs and 12-14yrs). If you wish to print on your own T-shirt, then we will be happy to try but we cannot guarantee the results. Please note that we cannot print onto black or dark coloured T-shirts so stick to white or light colours. Adult T-shirts can normally be printed on both sides however this may not be possible with some fitted t-shirts. Our children's t-shirts can be printed on one side only.
Please note that it is illegal to print copyrighted material without permission from the copyright owner and we must therefore refuse any jobs that we believe are subject to copyright.
Prices are inclusive of white shirt. If you provide your own T-shirt, reduce the price by £1.50 (adult) or 75p (child). 
Adult T-shirts – prices include VAT at 20%
Printed on one side only
Single Image up to A4
£10.00
 
 
Printed on both sides
Two images up to A4
£12.00
 
 
 
 
 
Children's T-shirts – zero rated for VAT*
 

Single Image up to A4

Double Image up to A4

£7.50

£9.50

 
 
*Note that if a child's t-shirt is intended to be used by an adult (or we suspect that this is the case) then we must add 20% VAT to these prices.
As these t-shirts are small, there are sometimes limitations on the size of image that can be printed. 
Mouse Mats
Inclusive of foam-backed mouse mat (approx 251mm x 189mm, 6mm thick. If your design has to be printed to the edge of the mat, for best results please provide artwork with a 5mm bleed i.e. make it 261mm x 199mm but allow for 5mm to be cut off each edge, and rounded corners), £7.00 inc 20% VAT