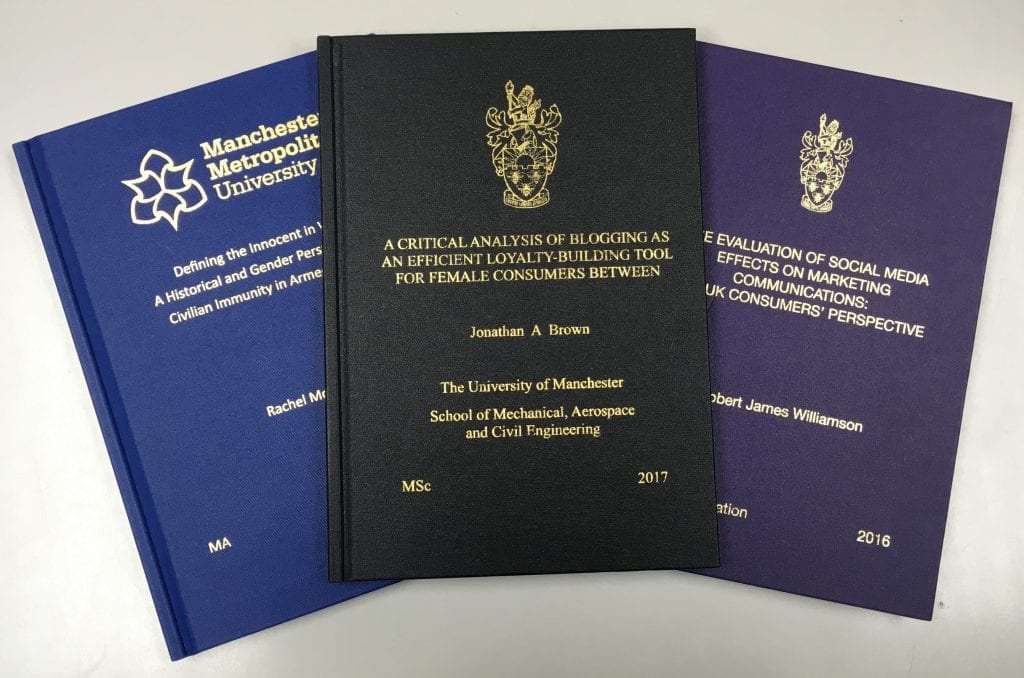 Hardback binding is ideal for :
Your company's latest proposal – the very best presentation, weighed with authority and designed to impress
Your thesis, dissertation or important coursework, protected yet accessible – you and your family can be proud of your work for many years to come
Your historic family photos – bound together for easy access for all the new members of your family
Blue and Purple covers as well as Black now in stock!
Now you can have your University Crest or Company Logo emblazoned on the cover! In fact, any mono artwork and any font will work with gold or silver leaf, provided it is one colour with no shading (subject to certain limitations). Lettering in gold or silver, foiled onto beautiful black, purple or blue buckram cloth hardback covers
on the same day*
look and feel amazing. Binding samples are available in the shop – come in and take a look! Our new same day foil lettered covers service has been tremendously popular since we launched the service in 2016. Come in and take a look!
*The same day service is subject to availability and workload at the time of order, and a surcharge is payable for this express service. Note also there is a physical limit of approx. 280 pages of standard weight (80gsm) paper.
Place you order online here
Popular options include:
Black, Purple or Blue Buckram A4 (Portrait) – Available with or without lettering on the spine and front cover – check the prices for 24hr, 3 day or 5 day services.
Linen effect finish A4 (Portrait) – great as a quick and inexpensive option, when you want something that looks a lot nicer and will last a lot longer. From £8.00.
White A4 (Landscape or Portrait) Photobooks – with the option of laminated covers, you can bind a selection of your favourite photographs. Plain covers: £12.00; one laminated cover £15.00; two laminated covers £18.00 (printing extra, or print it yourself).
Please click here for information on softback binding