Why MuPrint? Who are MuPrint?
MuPrint – how do you say it?
We're called MuPrint and we pronounce it mew print. The u is lowercase so it's definitely not pronounced M U Print.
We use the lower case Greek letter Mu as our logo; it's a symbol that is used in many different academic fields.
MuPrint Ltd. is a Limited Company, registered in England & Wales, Number 07551621. VAT Reg. No. 123 4349 47.
MuPrint – what does it do?
MuPrint is a print shop serving the general public, businesses and students for any kind of print job. Muprint takes special account of student and University requirements – it's in our blood!
MuPrint's printing services include Posters, Booklets, Business Cards, Hardback and Softback Printing & Binding and more…! All via our walk-in retail shop or this website's Online Ordering service. We also offer Graphic Design, Delivery, Point of Sale items, Web Design, Vehicle Livery and an expanding range of print-related services for Manchester businesses. And MuPrint continues to offer the best possible service to students and academics at Manchester's universities for many years to come.
MuPrint – what's the background story?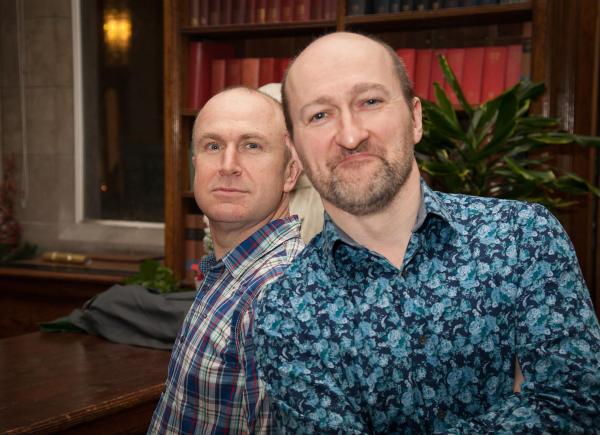 MuPrint Ltd was founded by Chris Leuty & John Shiel in 2011, but MuPrint's roots go back further..!
In 1988, Chris founded the print shop at UMIST Students' Union (now part of UMSU). For 23 years, he was responsible for running what was in its time the best student print shop in Manchester. Chris brings his vast knowledge and experience of the quick print industry to MuPrint.
John worked with Chris at UMIST at UMIST in 1988 and has experience as a journalist, graphic designer, production manager, and marketing & design manager. In 2004, he founded Krann Ltd, a web design and development company, which has developed into a highly successful business with a portfolio of clients based locally and overseas. John now brings this business experience to MuPrint.
Quality printing for Manchester's Universities – we were students too!
Chris and John met whilst students at UMIST (now part of the University of Manchester) where both served as editor of Grip, the UMIST Student Union newspaper. Both were later elected sabbatical officers on the Students' Union Executive as Communications Officer and President respectively.
Since then, Chris founded and ran the UMSU print shop until Summer 2011 while John worked as a journalist for the South Manchester Reporter, then as Production Manager. After a stint in Marketing and Media he started web design firm Krann Ltd in 2004 where he remains as Managing Director.
With this combination of marketing communications expertise and a specialism in Manchester universities' printing requirements, the duo got together to form the limited company MuPrint Ltd in Summer 2011 to offer print services to the general public and businesses in Greater Manchester with particular emphasis on the educational establishments Manchester University, Manchester Metropolitan University, the Business School and the RNCM.
Over a decade later, MuPrint offers high quality printing services for the entire Manchester academic community and the wider business community and general public on Greater Manchester.