To find us using satnav or an online map, our postcode is M15 6AA. Google Maps   Apple Maps 
You might not have visited us before but we're really easy to find. We're at Unite Students Rosamond House (formerly Liberty Central) on Higher Cambridge Street, just across the road from the MMU Students' Union building, and we're very close to the Royal Northern College of Music (RNCM) and Manchester Business School (MBS).
If you are at the University of Manchester on Oxford Road, we're less than 3 minutes walk away from the Oxford Rd/Booth St junction. Simply walk down Booth Street West, past the RNCM's main entrance and we're near the junction of Higher Cambridge Street and Booth Street West, next door to the Spar supermarket.
If you're at MMU All Saints, then walk down Cavendish Street and past the Cavendish Building and Cambridge Hall; when you get to Higher Cambridge Street, cross the road and turn left and walk 200m. It should take less than 5 minutes to walk this route from Oxford Road. If you're at MMU Birley, it's less than a 10 minute walk along Stretford Road towards All Saints, then turn right at the T junction (facing Cambridge Hall), and walk 200m. MuPrint is next door to the Spar supermarket.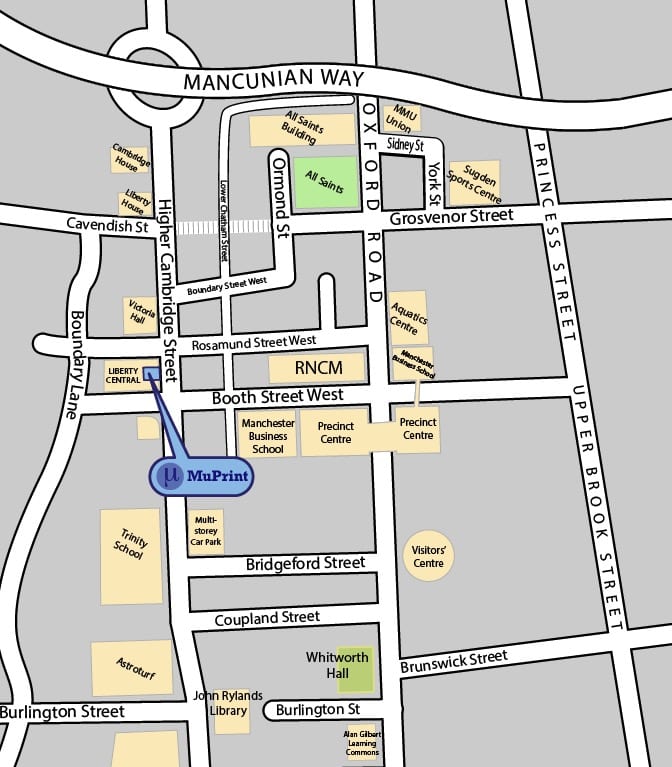 If you are at the University of Manchester on Sackville Street, walk down the road towards the Mancunian Way. Follow the path under the roads and then cross Upper Brook Street and into Grosvenor Street. Walk past the sports centre and when you get to Oxford Road, cross over to All Saints Park and follow the directions above. This should take about 10 minutes altogether to walk. 
If you live in one of the Halls of Residence on or near Higher Cambridge Street – Sir Charles Groves Hall, Cambridge Hall, Opal Hall, Oxford Court, Briarfield Hall, Manchester House, Needham Court and of course Rosamond House – then we're right on your doorstop! Call in and see what we can do for you.
There are many buses that run close to MuPrint:
Higher Cambridge Street: 99, 101, 104, 108, 109
Booth Street West: 53, 85, 86, 250, 251, 253, 263, 290, 291
plus even more on the Oxford Road route which is a few minutes walk away. (Bus services are subject to alteration so please check before traveling.)
Cycle stands are available outside the Spar next door with many more across the road outside MMU Union. There are some free parking spaces right outside the shop (20 mins maximum), plus limited free on-road parking across Higher Cambridge Street on Rosamond Street West and Higher Chatham Street near MMU Union and The Salutation pub.