Manchester Printer offering Same Day Printing
PRINTING has never been so effortless. MuPrint is on your doorstep – offering the convenience and care of a friendly local shop with high quality printing at realistically low prices.
Great – but what's the cost?
Here's some sample sameday prices for A5 or A6 flyers – you can get these flyers printed on standard 80gsm copier paper 
on the same day
– sometimes even while you wait! Yes, we have free WiFi, so check your email and do some surfing with our compliments while you're here…
| | | |
| --- | --- | --- |
| Size & Quantity | SAMEDAY Single sided | SAMEDAY Double sided |
| 100 A5 or 200 A6 | £17.75 | £32.50 |
| 250 A5 or 500 A6 | £36.50 | £67.00 |
| 500 A5 or 1000 A6 | £65.00 | £119.50 |
| 1000 A5 or 2000 A6 | £117.50 | £224.50 |
MuPrint is slightly cheaper than similar firms offering a similar service because we always want our customers to feel they are getting a little bit more service at a little bit less cost.
Poster printing: A4 and A3
Need some small posters printing quickly? The cheapest option is using standard 80gsm copier paper, with a white border. Prices in the tables at the bottom will give you an idea of the cost for A4. For an A3 poster, simply double the price. Also, posters are
always
subject to VAT so you will have to add 20% to the prices shown as these are excluding VAT. For other quantities please ask. We can print onto thicker paper including gloss coated, and this will cost extra per sheet from just a few pence depending on the type of paper selected. If you do want printing up to the edge, we can do this but it will cost more*. We can
only
do it if your artwork has a 
bleed
: that's an extra 3mm of the background colour or picture on each of the four sides that will be trimmed off after printing. Please ask for more information on this.
*It costs more because there's more work involved in setting it up and cutting it out, and we have to print onto over-sized paper which is more expensive.
For larger posters – A2, A1, A0 – see the 
Large Format Posters
page.
Same Day Printing – Watch it Happen!
Our aim has always been to print your work as soon as we can. This is often done instantly and while you wait, but sometimes it can take a little longer e.g. during busy periods when demand for our services is higher, such as in the run-up to a submission deadline at the University of Manchester or MMU – we're right between the two universities and it can occasionally get VERY busy, particularly in the last week of August and first week of September. Once printed, we can bind, fold, staple (stitch) and collate your work as fast as physically possible – we have 25 years of satisfied customers from thousands of print jobs – we'll make sure your print job is handled with care and professionalism.
For Students…
Your Thesis, Dissertation or Report could not be in safer hands. Our range of Xerox laser printers can produce high quality & high resolution prints fast. You won't pay more than 5p for a black A4 print or 25p for a colour A4 print, on standard 80gsm paper. If you're printing more than 263 colour or 245 black then our standard variable rates could be cheaper still.
For more details, click here
.
Student price applies to A4 printing only – copying and other sizes are at the standard list prices. You can print at this price on papers of 100gsm or 120gsm in weight subject to a small extra charge per sheet of paper used.
Special information on:
For Business and Pleasure…
MuPrint is a great place to get your business cards, leaflets or booklets printed quickly. Come on over with your file, use one of our PCs to put the finishing touches on it and then you're ready to send it to our print queue. MuPrint is geared to serve businesses, students and the general public – whatever your print requirements, we are here to serve you.
Printing Tips That Will Save You Money
If you're printing a document with a mix of colour and mono pages, the printer will count them up separately: there's no need to separate the pages – only the ones with colour will be charged at the colour rate.
However
, watch out for:
Headers and footers that contain colour text or lines – this will make every page colour!
Hyperlinks (web or email addresses) – these may be in blue or another colour; right click the link then remove the hyperlink.
Graphics that look black but were originally saved as colour – ensure that they are saved as mono, greyscale or bitmap before inserting them into your document.
Prices
Our standard prices are the same for printing and copying. A copy is always a copy, so for best results we recommend printing from an electronic file.
For both our full colour and mono (black only) printing, the price is variable: the more you have, the cheaper it is per copy.
The prices shown below are for same day printing of A4 single sided on 80gsm paper; you can choose high quality recycled 80gsm at no extra cost. Other papers are available subject to additional charge per sheet used. For double sided printing, the cost is the same as double the quantity e.g. 100 double is the same cost as 200 single which reduces the price per copy further. Please ask for any other quantity.
A3 is charged at double the cost of A4.
Note that our printers do not print to the edge so there will be a white border of approx 5mm as standard. If you want printing to the edge, then artwork with a
bleed
will be required and it will cost more. The prices shown below do not include VAT but note that not all printing is liable for VAT – more information on our
VAT page
.
Colour Print & Copy
| | |
| --- | --- |
| Quantity – A4 sides | Cost |
| 1 | 40p |
| 10 | £4.00 |
| 20 | £7.35 |
| 50 | £15.75 |
| 75 | £22.13 |
| 100 | £28.50 |
| 200 | £52.50 |
| 500 | £115.50 |
| 1000 | £220.50 |
Mono (black only) Print & Copy
| | |
| --- | --- |
| Quantity – A4 sides | Cost |
| 1 | 8p |
| 10 | 80p |
| 20 | £1.60 |
| 50 | £3.80 |
| 75 | £5.47 |
| 100 | £7.15 |
| 200 | £11.00 |
| 500 | £19.30 |
| 1000 | £33.10 |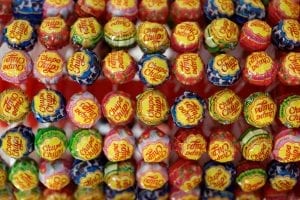 YES, THAT'S RIGHT! When you visit MuPrint on Higher Cambridge Street, Manchester you can have one of our huge selection of lollipops absolutely free! Our
Read More »

"Deleniti per, voluptatem, primis exercitation pretium dolores, fermentum ipsa."
Patricia Warren

"Autem debitis laboriosam atque nemo fringilla officia vel torquent corrupti. Varius amet ad occaecat a curabitur facilisi!"
Lauren Lane

"Deleniti per, voluptatem, primis exercitation pretium dolores, fermentum ipsa."​
Paul Smitten